A small introduction
Our Hotel is close to Lake Monate, which water touches the municipalities of Cadrezzate, Comabbio, Osmate and Travedona Monate. This placid little lake is only 3 km long and 1 km wide. Located just east of Lake Maggiore, it is set among meadows and forests. Lake Monate offers a range of ideal spots for weekend leisure and cool summer bathing. Its waters are considered among the purest of all lakes in Italy even though many sections of the lakeshore are now private property that belong to the many villas that over time were built here by the many people who were captivated by the scenic charm of this particular lake. Lake Monate was well-known as a holiday resort at the beginning of the 20th century and in the early 1990's, artists used the surface of the lake as part of a contemporary Water Art exhibition called Arte Lago. The quality of the lake water is monitored periodically and the lake, with its many public beaches, is perfectly safe for swimming.
During XIX century three pre-historical pilework villages were found in the lake. They all belong to bronze age. Two of them were found in Cadrezzate in 1864, and one of these is part of UNESCO's world heritage since 2011. Another one was found in 1874 in Monate. The pilework's ashes are now underwater, about 50 meters from the shore and about 2 to 6 meters deep; the archeological survey made us find out that when they were built, the whole village was out of the water but still near the lake.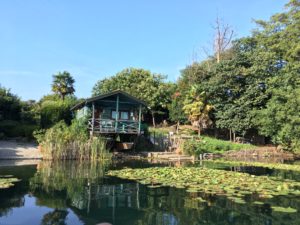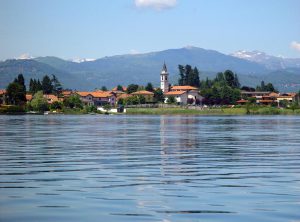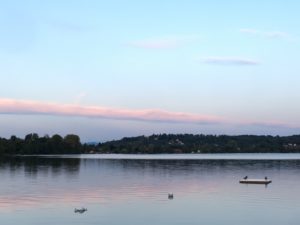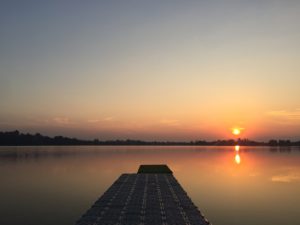 But what about the beaches?
On our little lake's shores you can find different beaches, some free and some equipped, in the different municipalities.
– In Cadrezzate we have three equipped beaches (La Playa, Il Larice and Il Coppale), each of them has a restaurant or pizzeria, and in each of them you can rent a pedal boat or a canoe. From our Hotel you can reach them walking in less than 10 minutes.
– In Osmate there's only one free beach (in via Aliprandi).
– In Comabbio there's only an equipped beach (Parco Mariano, or la spiaggia del prete).
– In Travedona there are an equipped beach with a reastaurant-pizzeria and the possibility to rent a pedal boat (L'Ultima Spiaggia) and a dog-friendly beach (in via Mascagni).
– Last but not least, in Monate there are a free beach (in via Marcobi) and an equipped one (Oltre Lago, close to the rowing club).